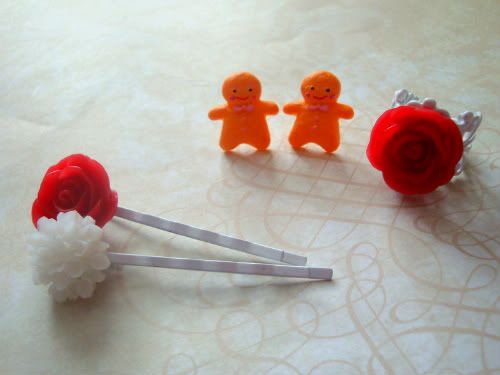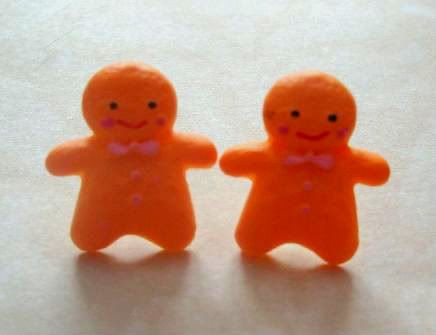 I caught up with one of my favorite Etsy shops
Once Upon A Peony
! Marissa, the owner and creator, actually lives close by to me and we remembered that we knew each other in High School after catching up! It is such a small world! We did graduate with over 1,000 students though. Yikes! Now she makes these cute jewelry pieces on Etsy as her creative outlet. I recently bought a pair of her Madelyn Earrings in the Mermaid color you can see me posing with them
here on her shop
! I loved the pop of color that they added to my outfits!
Please read my brief interview with the owner of Once Upon A Peony, the lovely Marissa! After you are done reading please do a few things to be eligible to win the adorable trio of Gingerbread Man earrings, Rapunzel hair pins, and Serendipity Rose ring! I wish I could win this! haha
HOW TO WIN:
1. Follow my blog with Google Friend Connect or "Like
Amy Bird Tweets
on Facebook.
2. "Like
Once Upon A Peony
on Facebook.
3. Leave a comment saying why you should win. :)
The winner will be announced on Thursday December 16th. Good Luck! :)
Q: How long have you been selling on Etsy?
A: I opened my Etsy store in March of 2010.

Q: What made you want to use flowers in most of your designs?
A: My grandparents had this picture of a little girl picking flowers hanging up in their house. My grandmother loved flowers, especially roses, and they always had some around their home. When my grandmother passed away, I started to think of flowers as her way of saying hello to me, so they are kind of my little tribute to her.

Q: What else do you do besides create pieces for your Etsy shop?
A: When I'm not working on my shop, I love to spend time with my family. My husband and I have twin girls who will be two this month, so we love to take them to fun places once a week, like the park or the movies. I also help out in my family's deli when they need an extra hand.

Q: What are some of your other favorite Etsy shops?
A: I absolutely love Lonkoosh. Her pieces are so amazing to me - she takes vintage pieces and creates something new and gorgeous with them.. I wish I had the patience and creativity that she has! I also love CulpablyCute's butterfly necklaces, and JudyStalus has some gorgeous flower pictures.
Q: Do you wear your own pieces?
A: I am always wearing something that I made.. Right now I'm wearing a lot of my rose gold geometry necklaces, which will be available in my shop soon :)

Q: What else do you do for fun?
A: Aside from just hanging out with my daughters, I love going on dates with my husband, trying new restaurants is our favorite thing, even though we don't have much time for it anymore. I also love to travel - I think Brazil is the most beautiful place in the world.
Check out her shop if you want to purchase any of the items you see here. She has so much more be sure to go and support! :)
Thanks! Have a great weekend everyone.