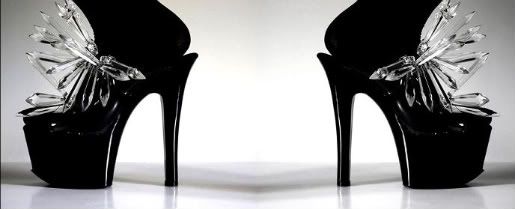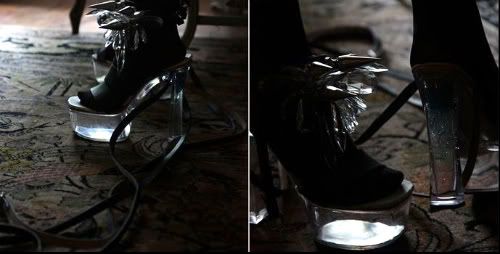 How amazing are these shoes and shoe harnesses? A friend of mine told me about a friend of hers who had a really amazing blog,
(IN)DECOROUS TASTE
. Her name is Lauren and she is girl with a ton of talent and the craziest ideas for shoes that become works of art.
For example she cracked a mirror on the ground and glued the pieces onto the base of a stripper shoe for that cracked glass effect. The results are stunning and I am amazed by her even coming up with this idea.
I love the crystals that stand up on the shoe harnesses, it really makes for a bold look. Ever since I first read her blog I was hooked to see more creations! She is now selling her shoe harnesses in a boutique called Seven in NYC, you can check out her looks at the boutique
here
.
She also has a portfolio of upholstering old world style chairs, adding crystals to tables for lavish decor, as well as many other things. I highly recommend checking out her website,
id-taste.com
too, and prepare to be amazed. :)
Nike recently reached out to her and gave her a pair of shoes to create something of her own. She ended up taking red Nike's gutting them and making
ruby red sequin sneakers
with an added heel. Fabulous!!