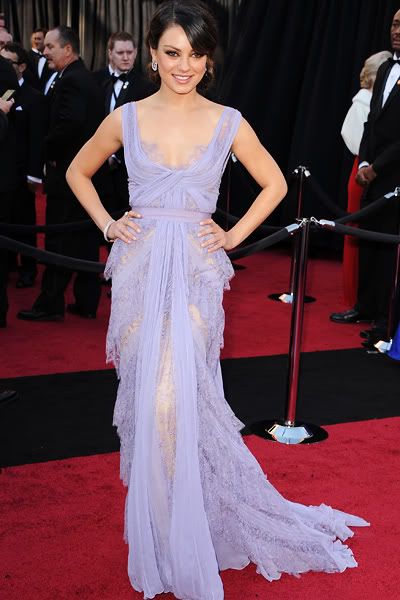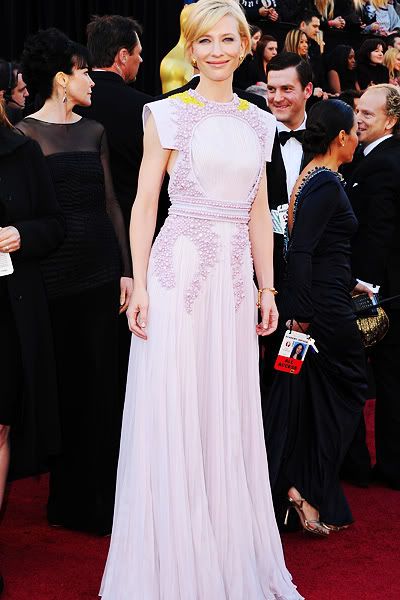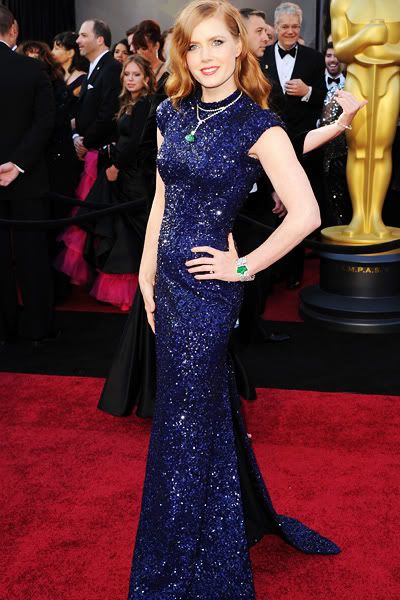 Besides the fact that James Franco and Anne Hathaway were way to young to be hosting such a prestigious show, I still enjoyed the fashion! I know I am a little late on my best and worst dress picks from this weekends 2011 Oscars, but here they are!
First of all Mila Kunis, the Black Swan star, was by far the best dressed! What a beautiful lace and satin organza gown by Elie Saab Haute Couture. This dress is flattering, feminine and sexy. I am in love with the color and looks great with her skin tone.
Florence Welch was my second favorite best dressed. A lot of the reviews said they hated this dress and even called her the worst dressed! I couldn't believe it, because I think this dress fits her style and personality perfectly. It looks very vintage and I love the lace at the top and the tiered look. Her simplified accessories complimented the dress as well so she didn't take away from her beautiful dress.
Finally Matthew McConaughey and his wife Camila Alves looked stunning. They opted for simple classic looks. I love the volume in Camila's dress with a more simple elegant top that was super sexy. McConaughey went with the classic bow tie and pocket square to really set off his look. Best dressed couple for sure!
Now for the worst dressed. I heard a lot of people raving over Cate Blanchett's Givenchy Couture dress. There are certain things I like about it, but I really can't get past the big circle cut out at the top of the dress. My eye goes right to the center of that circle and I can't enjoy the rest of the dress. Dresses should be works of art and your eye should scan the canvas, however, this one was difficult for me to enjoy. I like the bottom half and wish there was a different top without that cut out. What were your thoughts on this dress?
Oh Amy....what were you thinking??? OK Amy Adams is wearing a deep violet, sparkly, cap sleeve dress by L'Wren Scott. The dress is really pretty, but she ruined this look by adding that silly green necklace and bracelet. YUCK! Any dress that goes up to the neck should not have a necklace over it. First off, she already has a super sparkly dress, so why did she need to add the necklace and bracelet? She should have just worn simple stud earrings and maybe a simple ring and called it a day! I would really LOVE to know who made the decision for her to put those accessories with that dress. She gets worst dressed from me!!
Should we even talk about Reese Witherspoon's boring black and white number? Terrible....
What were your thoughts of the 2011 Oscars Fashion?
All pictures from mtv.com, Florence Welch picture from Celebbuzz.com