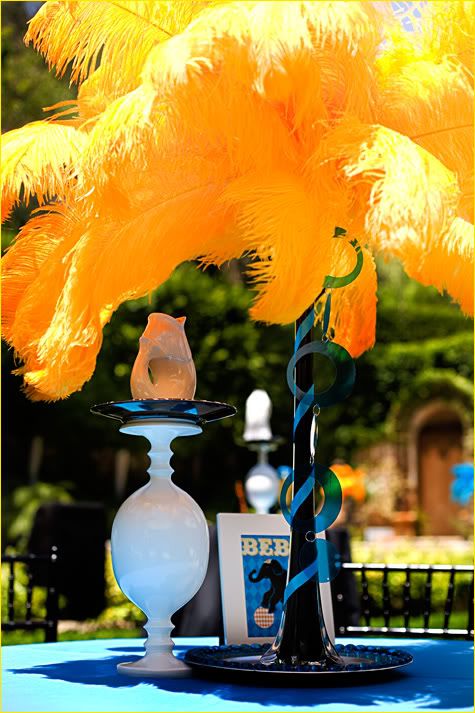 These amazingly awesome Feather Plume Centerpieces were for a French themed baby shower in NYC from the blog,
Hostessblog.com
! I am in LOVE with this idea, think it's super creative, and I love how colorful the feather plumes are. I am a huge fan of the color yellow and blue together! Even the piece that dangles down from the feathers looks incredible. They did a fantastic job putting this shower together and I have so many ideas now for future parties. I adore outdoor events in a garden setting, I just wish I could have attended this shower just for the decor alone! haha
Here are all the DIY details for the feather trees:

*****
You'll Need:
19″-23″ Ostrich Plumes (approx 20 – 25 per tree *see note)
Straight Stem Bouquet Holder
Eiffel Tower Vase – (24″ or 28″ height)
glue dots, earthquake gum, or similar other type of adhesive
Optional Embellishments:
Ribbon
Hoops Beaded Curtain (or similar)
DIRECTIONS:
1). Insert the feather quills into the foam bouquet holder to create a "palm tree like" look, starting at the bottom of the holder and working your way up to the top. (You may need to trim some of the quills if they seem to be a little long and start to run into each other when inserted.) The best thing about this centerpiece is that it's so easy to adjust. If it looks too full/empty in one particular area, just keep moving things around until you're happy with the look. When you're done, give the holder a little shake to make sure all of the feathers are secure and to help fluff them up.
2). Decorate the vase with ribbon (optional). Wrapping ribbon in a diagonal direction from the bottom to the top of the vase gives it a fun "candy stripe" look that's perfect for circus themes (or holiday!).
3). Insert the stem of the bouquet holder into the Eiffel Tower Vase so that the feathers sit on top to form the "tree". Use glue dots, earthquake gum, or another gummy adhesive to help secure the bouquet holder to the vase. This is especially important on this size of a centerpiece, because the top can get pretty heavy due to the large size of the feathers. If your party is outside, I definitely recommend using a strong adhesive to help combat any wind that might pick up!
4). Embellishments (optional): Pull a piece of the Hoops Beaded Curtain or a similar decorative element to hang from the feathers. The Hoops strands are so light , they can easily hang from one of the individual feathers, so we were able to hang them a few inches away from the vase so that they were more visible. (If you're using a heavier element like a crystal ornament, you may need to hang it directly from the top edge of the vase.)
*Note: It's MUCH more cost effective to purchase the large ostrich plumes by the pound. You'll get approx 110 pieces for $190, which is enough feather for 5 centerpieces, as opposed to paying $80-$94 for 20-25 individual feathers for just one centerpiece. These centerpieces aren't exactly inexpensive, but when you compare them to the cost of a traditional flower arrangement or large-scale event or wedding centerpiece, they still come in well under the standard price, especially when done in bulk! PLUS, you can re-use the feathers over & over… or lend to friends, etc. =)
Some of the feather trees at the party were grouped with additional decor – such as small framed signs & the candlestick arrangement pictured above. (The white candleholder is from Z Gallerie, and it's topped with a funky
melamine zebra salad plate
from Social Couture and a fish-shaped
Mini GurglePot
from Delight.com.)
Hopefully you got some ideas for future party decor! Please check out
Hostess with the Mostess
blog for more fun party planning ideas. I absolutely love this blog and am always inspired by the beautiful events they put together. :)