Hurray! My work has finally paid off! I found a branch in my yard and spray painted it white and brought the party poms on etsy.com.
Picking out the flowers for the centerpieces at produce junction. So many beautiful flowers here for less.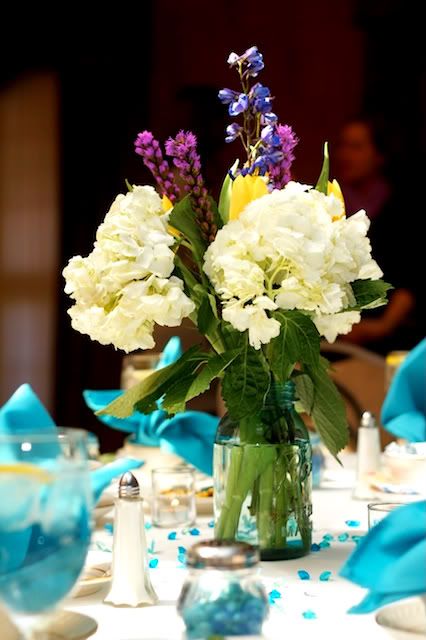 I went with yellow tulips to compliment the blue theme and hydrangeas to give the centerpieces a fuller look. The vintage blue mason jars really gave the flowers a fresh feel.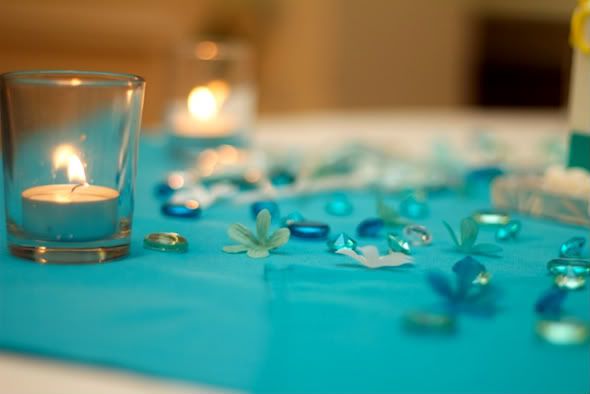 The tables were decked out with blue jems, flowers, and tealights.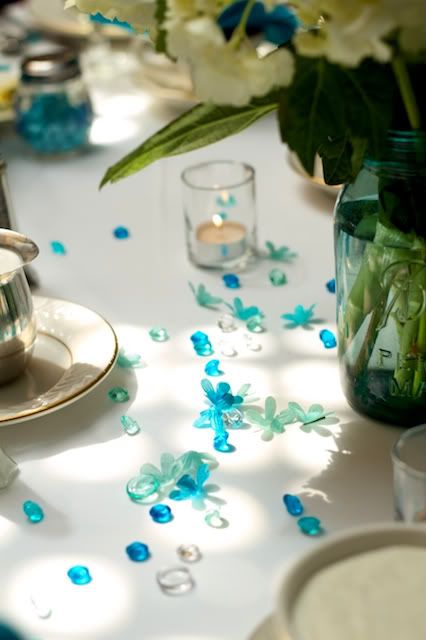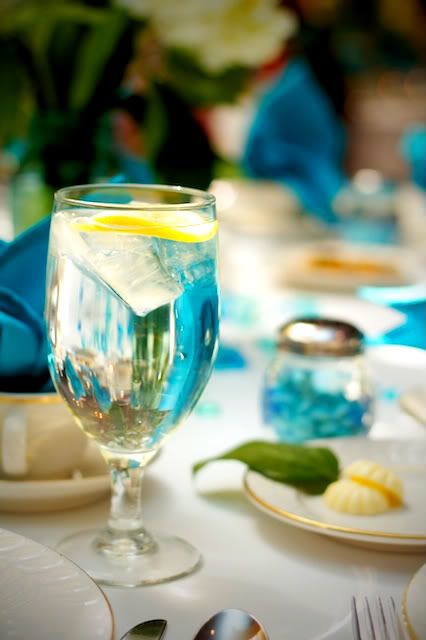 I am a huge fan of this picture because I love how the focus is the water glass with the floating lemon at the top.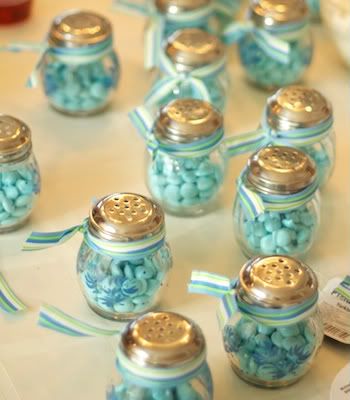 I went with spice shakers filled with blue M&Ms as the favors because my sister loves to cook. I think practical favors are better than something your guests may never use. I already use my spice shaker for my parm cheese and love it! These favors were very well received.
I decided to frame her invitation since she didn't get to see it and it went very well with the decor. I just adore the blue twirly lollipops in the different sized jars.
I was very happy with how this cake turned out and it was very tasty. We ordered a two tier square cake with butter cream frosting and marble pound cake. I also like the saying we picked out for the cake!
Just another shot of the tables, I love how the napkins were placed in the coffee cups!
My sister was very surprised and didn't realize we were putting all of this together. Her fiance, Liam is a very lucky man. ;)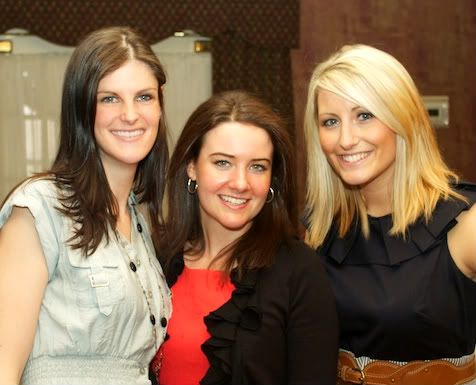 Debbie, Chrissy, and I. We were best friends growing up but don't see each other as much as we should. It is always good to be reunited with old friends and it feels like you never missed a beat.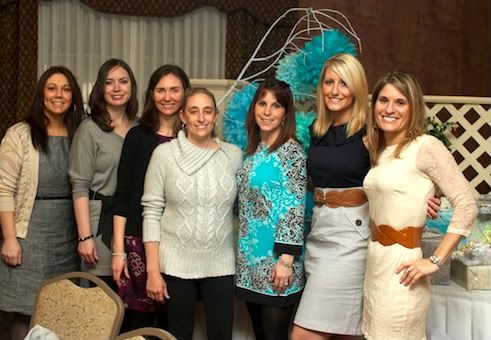 Finally, I could not have done this all myself without the help of the lovely bridesmaids and my mom! It is a tough job being Maid of Honor but it is well worth it when you see how happy your sister is. Many people told me that this was one of the best showers they had ever been to. We played a ton of fun games and had great prizes for guests to win.
I am glad it's over and it went as smooth as it did. Next on the list is her Bachelorette party, which is this weekend then her wedding is June 4th!
I hope everyone understands why I didn't have time to blog over the past few weeks. Bridal Shower planning and party planning can become very hectic!
I would love to hear feedback about how you think my bridal shower for my sister turned out.
Thanks so much, you will be hearing from me again very soon!
Love you Jenn!
All photos by Matt Mahoney