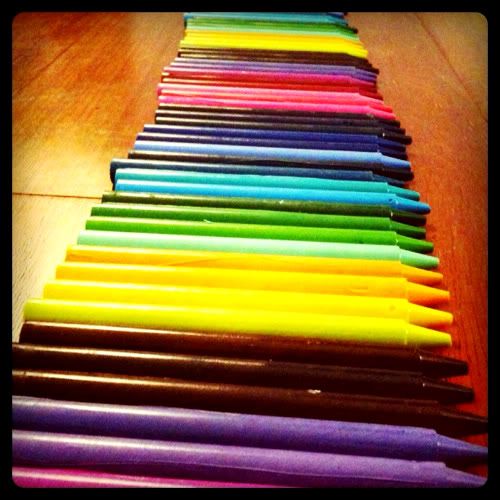 First I took off all the crayon wrappers with an x-acto knife for a cleaner look.
Then I used a hot glue gun and made a line of glue directly on the canvas, and then applied the crayons to the canvas one at a time lined up across the top.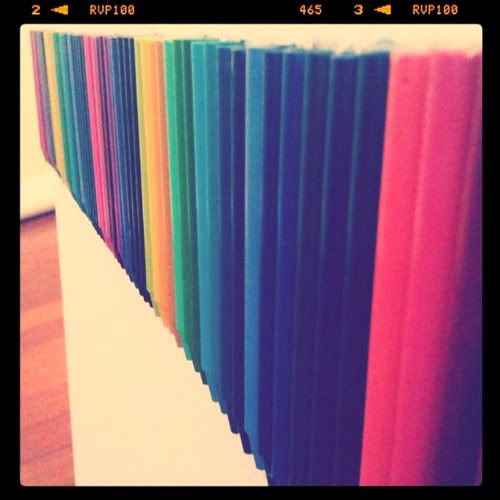 This is what your canvas should look like before you start blow drying the crayons. Be sure to use some sort of drop cloth as the wax can splatter.
Blow dry the crayons a section at a time for a clean look. Hold the blow dryer facing down to help the wax run down the canvas faster. I used a low heat setting on my dryer and it seemed to work the best.
To create the texture that I did after the wax dries go back over certain parts to melt more wax down the canvas. After a while you'll start to get your groove and figure out how to work the blow dryer to create the effect you want.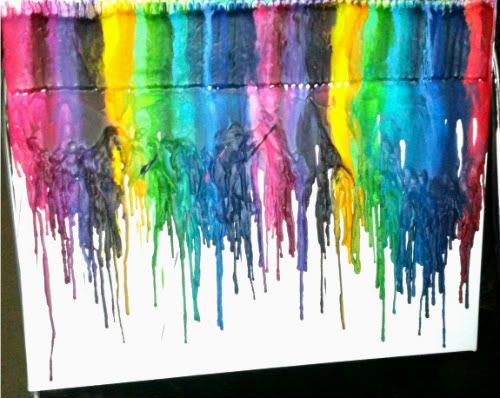 Here is my final work of art! I am actually really pleased at how my crayon art came out. I didn't want to do the full rainbow so I left out most of the reds and oranges and think this looks nice too. If anyone decides they want to try this I would love to see the color combinations that you put together.
I have hung up my artwork above my desk and it makes me smile to know that I made it myself. It also gives me color inspiration when thinking of posts for my blog. This artwork I find looks best when light hits it, so be sure to hang it somewhere near a window. It was a really fun weekend project and I highly recommend everyone make one for your home too!
Canvas: $10
2 Boxes of 64 Crayons: $6
Project Total: $16 - Not bad at all!
(I already had my own x-acto knife & hot glue gun)
Peace & Hugs,
Amy